Pyrodigital® Firing Module
The Firing Module electrically connects the pyrotechnic squibs to the System Controller via digital communications over the Interconnecting Cables and Splitter Boxes.
An individual Firing Module listens to the System Controller commands when it's selectable address matches the command address. Commands are processed either to check squib continuity and send that information back, or to apply full line power 24 VDC nominal to the specified circuit address and fire the igniter.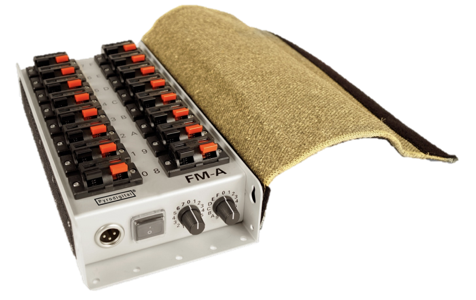 NEW!  FM-A
The FM-A, is a fundamentally new electronic design that has been developed completely from scratch.
The FM-A's have proven their reliability in over two years of testing at IP Innovative Pyrotechnik GmbH. This testing includes many big shows with more than 500 FMs of all types.
The new Pyrodigital® FM-A solves and improves upon any and all shortcomings of past FM's being 100% compatible with FM-3's, FM-4's, FM-45 PCB's, FM-5's, and FM-7's.
The FM-A comes with several new features such as an integrated 3-way bus splitter and new mounting options including safety cable notches. It is properly protected from the elements.
The electronics are mounted in injection molded units, fully encapsulated in a sulfur and water protective resin.
The FM-A adds locally capacitor buffers with instant access energy  firing energy to enhance the firing reliability in large networks and for rapid firing.

The FM-A's internal operating firmware offers tremendous improvements regarding safety, especially in Check Status Mode.
The included fire-resist cover protects the FM-A from fallout.
The hardware is composed completely of high-quality components.
The finest Pyrodigital® Firing Module ever made.