LANGUAGE SELECTION TOOL


All the Visual Applications of Visual Show Director, are available in different languages.
To select the language in use, please use the Language Selection Tool, available in the Visual Show Director folder as shown in the following illustration.



The tool interface is very simple and it is enough to select a language from the ones available and press the [APPLY] button.
The next time the visual tools are run, they will be in the desired language.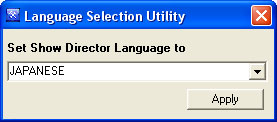 Currently available languages: English, Spanish,Japanese,French. Korean, Chinese Simplified, Chinese Traditional.
The text maps of language correspondences are located in:C:\Program Files (x86)\ShowDirector8\Visual\Resources\Messages

If you are interested in correcting or translating Visual Show Director in your language, make any changes in the .txt files and send an email to vsd@infinityvisions.com
Created with the Personal Edition of HelpNDoc: Easily create EBooks